Posts for tag: crown
By Advance Family Dental Care
January 01, 2017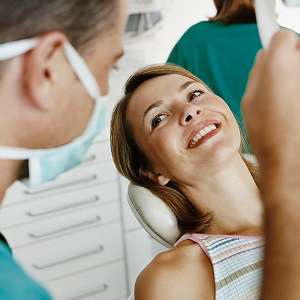 Modern restorations for severely damaged or missing teeth are truly remarkable. Although the type of restoration may differ — dental implant, bridge, or veneer — the end result is a life-like facsimile that matches the shape and color of your natural teeth.
To achieve this result, though, the new crown or veneer requires fabrication in a dental laboratory, a meticulous process that may take a few weeks. In the interim, we often install temporary crowns. These help in a number of ways: because we've prepared the teeth for final restoration by removing some of the tooth structure, the temporary crown protects and stabilizes the teeth, reduces sensitivity and helps maintain gum health. Temporary crowns also enable the patient to present a more natural smile while waiting for the permanent restoration.
Temporary crowns are typically manufactured to fit a wide range of patients, similar to an "off-the-rack" suit from a clothing store. In recent years, though, customized "tailored" temporary crowns designed specifically for an individual patient have grown in popularity among dental professionals as well as patients.
In creating a customized temporary crown, we first perform a smile analysis similar to one used for a permanent restoration. After a careful assessment of your mouth, we would then make recommendations about the elements to include in the temporary crown, including shape and color. We would also factor in your desires and concerns into the final design. Working together with the dental laboratory, we would then have the temporary crowns produced and ready to apply as soon as we complete the preparatory work.
Customized temporary crowns also serve another important purpose as a kind of "dress rehearsal" for the permanent restoration. This gives you an opportunity to "try out" the smile you'll have with the permanent restoration in your daily life. We can then use your experience to make adjustments to the permanent crowns before final production.
While customized temporary crowns involve more effort and expense than the traditional, the benefits are worth the added cost, especially if you're involved with an extensive "smile makeover" procedure. Not only will you look better while your permanent restoration is under construction, your temporary look will give you added confidence that your future smile is right for you.
If you would like more information on temporary and permanent dental restorations, please contact us or schedule an appointment for a consultation. You can also learn more about this topic by reading the Dear Doctor magazine article "Concepts of Temporary Restorations."
By Advance Family Dental Care
May 21, 2014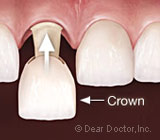 Like the ones worn by kings and queens of old, dental crowns were traditionally made of that most "royal" of metals: solid gold. This style of crown is still going strong after over a hundred years, but recent advances may have stolen some of its luster. Want to learn more about the different materials from which crowns can be made? Read on!
Gold crowns have stood the test of time, and many still consider them the best. Gold is one of the earliest materials to be successfully used for making crowns, and when properly done, it also lasts the longest: over 50 years in some cases. For these and other reasons, many dentists prefer to get gold restorations for their own teeth.
But in recent years, the use of gold crowns has been in decline — especially when the crown is for one of the front teeth. Why? In one word: aesthetics! With the advent of porcelain and porcelain-fused-to-metal (PFM) crowns, many people have opted to go with these more natural-colored tooth restorations.
PFM restorations have been in use for some four decades. They combine the strength of precious metals (gold or platinum) with the appeal of a finish that appears more like a natural tooth. With proper care, a PFM restoration may have a functional life of around 20 years.
With their pearly luster and semi-translucent sheen, all-porcelain crowns have an incredibly lifelike appearance. Porcelain itself is a glass-like material, which is specially modified to add strength when it's used in dentistry. In the past, there were some problems with brittleness in all-porcelain restorations. Today, newer formulations have been designed to avoid these issues.
High-tech materials that have recently become available to dentistry include a polycrystalline ceramic substance called zirconium dioxide or "Zirconia." It shows great promise in terms of aesthetics and strength, and is the subject of much ongoing research. One day, it may replace other materials and become the new "gold standard" of crowns.
Depending on the particular situation, one or more of these materials may be considered for your crown.
If you would like more information about crowns, please contact us or schedule an appointment for a consultation. You can also learn more about this topic by reading the Dear Doctor magazine articles "Porcelain Crowns & Veneers" and "Gold or Porcelain Crowns?"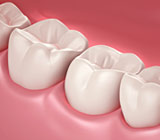 Getting a new crown for a front tooth is a standard procedure performed in thousands of dental offices around the country. But dental patients are sometimes surprised to find that the price of this routine treatment can vary by a substantial amount. What accounts for the difference? The answer tells us a lot about how crowns are made, and the value of aesthetics in dentistry.
Crowns may be made of several different materials. Gold, the most traditional restoration material, makes for a time-tested, functional and durable crown, lasting as long as 50 years. Gold is a precious (and expensive) metal, but considered over the lifetime of the restoration, it's an economical choice. Yet, even for back teeth, it's losing out in popularity to more aesthetically pleasing alternatives.
Porcelain-fused-to-metal (PFM) crowns and all-porcelain crowns replicate the look of natural teeth more accurately. The kind of porcelain used in restorations must have special strengtheners added, which enable it to stand up to wear and tear in the mouth. There are different porcelain materials used in dental restoration, each with a different look, quality and longevity. There are also new, high-tech ceramic materials. Each one has advantages and drawbacks, and each one's cost is different.
Besides the material, another large part of a crown's cost is the custom-fabrication of every piece. Since it must match the other teeth in form and function — and often in looks as well — every crown must be made to an individual's exact requirements. This includes the tooth's exact size and shape, its spacing, and (often) its particular color.
Making this happen is a multi-step process. First, a dentist carefully prepares a model of the affected tooth and its neighbors. Then, the fabrication work is normally performed by a highly skilled laboratory technician, at the dentist's direction. Finally, the dentist prepares the tooth for the restoration, performs final adjustments, and attaches the finished crown. When it's done, the restored tooth can be difficult to tell apart from any other.
The level of craftsmanship involved at the dental laboratory can vary — and along with it, the price. Dentists may even choose different technicians based on the quality level they're striving for. All of these factors affect the final cost of the crown, and its value to the patient.
It has been said that beauty is in the eye of the beholder, and this is certainly true in the case of dental restorations. The choice of a "best" crown is different for every person — more than one alternative may be available, and each comes with its own price. If you have more questions about your options for a crown restoration, don't hesitate to ask us!
If you would like more information about crowns, please contact us or schedule an appointment for a consultation. You can also learn more about this topic by reading the Dear Doctor magazine articles "Value of Quality Care," "Porcelain Crowns & Veneers," and "Gold or Porcelain Crowns."