Posts for tag: missing tooth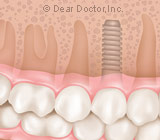 A dental implant as a permanent replacement for a missing tooth can match or even look better than your original tooth. How this happens takes knowledge, skill, experience, and even some art.
Here are some of the factors involved:
Bone quantity and quality: To look and function like an original tooth, an implant must be supported by an adequate base of (jaw) bone and gum tissue. Bone has a tendency to melt away or resorb after a tooth is lost. Using new bone grafting techniques can help minimize the bone loss that occurs during healing at the extraction site. Bone grafting can also be used to rebuild lost bone at the implant site.
Adequate bone supporting neighboring teeth: If you lose bone that supports teeth on either side of an implant, the papillae (the little pink triangles of gum tissue between the teeth) may not regenerate after the implant is placed.
Your inborn tissue type: If your gum tissues are thin and delicate rather than thick and robust, they will be more difficult to work with. To ensure that there is sufficient gum tissue support, (gum) grafting may be necessary.
Using the temporary crown as a template: A dental implant actually replaces a tooth root. Most dental implants are made of commercially pure titanium, which fuses with the bone in your jaw, making it very stable. The crown, the part of the tooth that is visible above the gum line, is attached to the implant; a customized temporary crown can be fitted to the implant. The temporary crown is a trial for the final crown. It can be used to assess color, shape, the appearance of your smile, and the implantâ??s function in your bite and speech. It gives you the opportunity to decide about design adjustments before the final, permanent crown is placed.
The skill, experience, and collaboration of your dental team: Each situation is different. The final success of your implant depends on your pre-surgical assessment and diagnosis, as well as how the surgical and restorative phases of treatment are performed. The use of an outstanding dental laboratory is vital to a successful result.
Contact us today to schedule an appointment for an assessment or to discuss your questions about dental implants. You can also learn more by reading the Dear Doctor magazine article "Matching Teeth & Implants."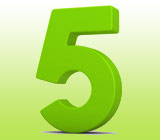 Lost teeth can cause a host of problems, including a loss of your jaw bone and a collapsing appearance of your face, along with difficulty chewing and speaking.
Clearly, it is important to replace missing teeth as soon as possible. Options for replacement include the more traditional methods and the newest technique — dental implants. We believe that implants are your best choice for the following reasons.
Implants prevent bone loss.

Dental implants are substitute tooth roots. Like the roots of your original teeth, they stabilize the bone into which they extend — but in a different way.

The part of the bone that encases the teeth is called alveolar bone, from the word root meaning "sac." This bone has a special relationship with the teeth it surrounds. It develops as they first erupt into the mouth. If they are lost, the alveolar bone goes, too. It resorbs, or melts away, giving an impression that the bone, gums, and sometimes the lips are collapsing.

Implants are made of titanium, which has the ability to join biochemically to bone. It takes the place of the original tooth root and prevents resorption.

Implants support adjacent teeth.

Your teeth work in harmony, an all for one, one for all relationship with each other. If one is missing, the remaining teeth will slowly move and shift causing them to receive forces that may not be well received. Losing any tooth increases the pressure on the remaining teeth. Losing a back (posterior) tooth can put pressure on the front teeth and they can be forced out of position. All these movements can change a person's appearance as well as in their ability to speak, bite and chew.

They are easier to clean than "traditional" options.

Fixed bridges are non-removable tooth replacements that attach to adjacent natural teeth. These teeth that are adjacent to the missing tooth have to be cut into small peg shapes on which the bridge is attached. The removal of their enamel may make them more prone to tooth decay and gum disease.

Older replacement methods include removable options such as plastic "flippers" and partial dentures. These replacements rest on the teeth and gums, making the teeth they attach to receive greater pressure causing more mobility. In addition, they exert pressure on the gums, causing additional bone loss and increasing the potential for bone loss on the neighboring teeth.

Full dentures, in cases where all teeth are missing, are kept in place by pressing on the gum tissues. This causes even more pressure on the bone, leading to bone loss and changing facial structures.

They are longer lasting.

Studies have shown that removable partial dentures are replaced about every five years; bridges are only 67% successful at 15 years; and implants are over 95% successful for 20 or more years.

They are cost effective in the long term.

Because implants last longer than other alternative tooth replacements, they may seem more expensive at first; but they will be cost effective over the long term.
Contact us today to schedule an appointment to discuss your questions about dental implants. You can also learn more by reading the Dear Doctor magazine article "Dental Implants. Evaluating Your Options."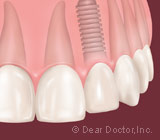 If you've lost one or more of your teeth due to tooth decay, trauma, gum disease or a failed root canal, there are a variety of ways that our office can help you to restore your smile and increase your confidence. Crowns, conventional bridges and dentures aren't your only options for replacing missing teeth. Dental implants, surgically placed below the gums, are another alternative for replacing missing teeth.
Getting Started: If you would like to explore the option of having dental implants to replace one or more teeth, you will first need a comprehensive exam. The ideal candidate for implants is in good general and oral health. Adequate bone in your jaw is needed to support an implant. Smokers and those with uncontrolled chronic diseases like diabetes may not be good candidates for dental implants because healing may be impaired or slow. In addition, dental implants aren't appropriate for children or teens until their jaw growth is complete.
The Process: Dental implant surgery can be performed in our office using either a local or general anesthetic. The implants actually replace tooth roots; they are placed into the bone surgically. Generally made of commercially pure titanium, this metal has the remarkable ability to fuse with the bone as it heals forming a union known as osseointegration ("osseo" – bone; "integration" – to fuse with). This process takes two to six months depending upon many factors of which bone quality is the most important.
The next step is to place an abutment (a small connector) which attaches the implant to the crown. The crown is the part of the tooth that is normally seen in the mouth above the gums.
Assessment of your individual situation and deciding if dental implants are right for you takes knowledge and experience. Contact us today to schedule an appointment to discuss any questions you may have regarding dental implants. Read more about this topic in the Dear Doctor magazine article "Dental Implants: Options for Replacing Missing Teeth."