Posts for tag: oral sedation
By Advance Family Dental Care
August 31, 2015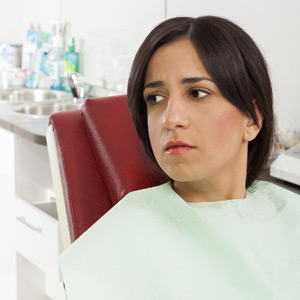 We always look forward to seeing our patients, but not all of you look forward to seeing us! If you're one of them, don't worry — we don't take it personally. Dental anxiety prevents many people from seeking the care they require to restore or maintain a healthy smile.
But if dental problems are allowed to progress, they can affect not only the beauty of your smile and health of your mouth, but your overall wellness, too. Infection can travel from the mouth to other areas of the body, and dental disease exacerbates chronic health conditions like heart disease or diabetes.
Overcoming Apprehension
Fear should never be an obstacle (in the immortal words of President Franklin Roosevelt, "…the only thing we have to fear is fear itself…"). And fortunately there are some safe options for those of us who can't get past our anxiety when it comes to dental care:
Oral Sedation. A sedative medication can be prescribed that you take by mouth approximately an hour before your dental visit to minimize anxiety and promote relaxation.
Intravenous (IV; "intra" – inside, "venous" – vein) Sedation. If oral sedation isn't entirely effective in facilitating treatment, then a medication combining a sedative for relaxation and a pain-blocking anesthetic can be delivered through or small needle or catheter that is gently inserted into a vein. This is referred to as "conscious sedation" because you are in a semi-awake state during which you are able to respond to verbal direction. It takes effect quickly, and you can come out of it quickly. However, you may not remember much about your procedure. It is very different from general anesthesia during which you are completely unconscious.
Safety First
Dentists who offer IV sedation receive extensive training after which we must pass an exam and apply for a special permit that we maintain through continuing education. We carefully screen patients for eligibility and monitor you throughout so you can rest easy before, during, and after your procedure.
If you would like more information about sedation in dental care, please contact us or schedule an appointment for a consultation. You can also learn more about the subject by reading the Dear Doctor magazine article "Oral Sedation Dentistry."
Studies have shown that as many as 75 out of every 100 people fear dental visits; and for 10 to 15 of them, the fear is so great that they never get treatment — leading to serious dental problems and worse. Untreated disease in your teeth and gums can negatively affect the health of your entire body.
How can you conquer your fears so you can get the treatment you need? The answer includes (a) working with us to overcome your fears and have a positive experience while undergoing dental treatment, and (b) using oral sedation or anti-anxiety medication to help you quell your fears and relax.
Overcoming Your Fears
People develop fear of the dentist when they have a bad dental experience themselves, or sometimes when they hear of a bad experience someone else has had. The more you are afraid, the more you feel the symptoms of fear, and the more you connect those symptoms with the experience. You need to stop this negative memory sequence and replace the feelings of fear and loss of control with memories of good experiences and feelings of being in control.
It helps to know that you are not alone in your fears and that you can do something positive about them. First, make an appointment to discuss your fears with us, your dental professionals. Start with small procedures that cause only mild anxiety, and give yourself adequate time to get over your fears.
Using Oral Sedation
You have already gradually reduced your fear through your discussions and previous appointments. When you are ready to go to the next step, consider using oral sedatives or "anxiolytics" (meaning that they dissolve anxiety) to help you feel relaxed and comfortable.
Oral sedation — so called because you take it by mouth — allows you to let your guard down and focus on feeling peaceful, yet you remain awake and in control. The medication is either placed under your tongue and dissolved there (sublingual) or swallowed whole. Since it is taken by mouth, it does not require an injection, so it is easily taken by people who are afraid of injections.
The oral sedative and anxiolytic medications dentists use have been subjected to rigorous research and testing and have a long safety record after decades of use.
By using this two-step process you can reduce your fears and begin to get the care you need. And we, your dental professionals, are able to work more efficiently because we can focus on the work at hand, knowing that you are comfortable and relaxed.
Contact us today to schedule an appointment to talk about any fears you may have. You can also learn more by reading the Dear Doctor magazine articles "Overcoming Dental Fear & Anxiety" and "Oral Sedation Dentistry."