Posts for tag: tooth loss
By Advance Family Dental Care
May 17, 2018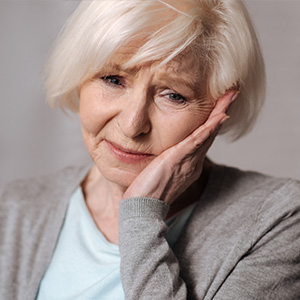 Tooth loss is a problem that affects many seniors—and since May is Older Americans Month, this is a good time to talk about it. Did you know that more than a quarter of adults over age 75 have lost all of their natural teeth? This not only affects their quality of life, but poses a significant health risk.
According to a study in The Journal of Prosthodontics, significant tooth loss is associated with increased risk for malnutrition—and also for obesity. If this seems like a contradiction, consider that when you have few or no teeth, it's much easier to eat soft, starchy foods of little nutritional value than it is to eat nutritious fresh fruits and vegetables.
That's just one reason why it's important to replace missing teeth as soon as possible. There are several ways to replace a full set of missing teeth including removable dentures, overdentures, and fixed dentures.
Removable dentures are the classic "false teeth" that you put in during the day and take out at night. Dentures have come a long way in terms of how convincing they look as replacement teeth, but they still have some disadvantages: For one thing, they take some getting used to—particularly while eating. Also, wearing removable dentures can slowly wear away the bone that they rest on. As that bone gradually shrinks over time, the dentures cease to fit well and require periodic adjustment (re-lining).
Overdentures are removable dentures that hook onto a few strategically placed dental implants, which are small titanium posts placed in the bone beneath your gums. Strong and secure, implants prevent the denture from slipping when you wear it. Implants also slow the rate of bone loss mentioned above, which should allow the denture to fit better over a longer period of time. But overdentures, too, are not meant to be worn all of the time.
Fixed dentures are designed to stay in your mouth all the time, and are the closest thing to having your natural teeth back. An entire row of fixed (non-removable) replacement teeth can usually be held in place by 4-6 dental implants. Dental implant surgery is an in-office procedure performed with the type of anesthesia that's right for you. After implants have been placed and have integrated with your jaw bone—generally a period of a few months—you can enjoy all of your favorite foods again without worry or embarrassment.
If you would like more information about tooth-replacement options, please contact us or schedule an appointment for a consultation.
By Advance Family Dental Care
July 19, 2016
Are you ready to discover if these tooth restorations are right for you?
Tooth loss may seem like a terrible situation but it doesn't have to be a bad word. After all, dental technology now makes it easier than
ever to get back your smile without other people even knowing that you have a restoration. If you've been weighing your treatment options then you may want to talk to your Naperville, IL dentist Dr. Pirooz Zomorrodi about whether dental implants are appropriate.
Here are some questions to ask yourself to help you determine whether getting dental implants in Naperville is a good option for you:
Are you in good health?
This means that both your oral and general health are superb. Your smile should be free of cavities, infection or gum disease. Your jawbone should also be strong and healthy enough to support a dental implant. Those with a deteriorating jawbone may need bone-grafting surgery prior to getting implants.
Your general health should also be in tip-top shape. It's best if you aren't dealing with chronic diseases like diabetes or heart disease, but if you are we will want to make sure that these conditions are being properly managed prior to getting dental implants.
Are you an adult?
Children and teen mouths are still developing and until they have fully grown dental implants are not the right option. Once the jawbone has fully developed then a patient can choose to get dental implants. Why? Because implants are placed directly into the jawbone where they fuse with the implant. This could stunt the full development of a still growing jawbone.
Are you a non-smoker?
Not only is smoking a terrible habit for your smile but it can also cause a host of issues for someone looking to get a dental implant. First and foremost, smoking affects blood flow through the body, which impedes healing. Smokers are more likely to experience implant failure than non-smokers. If you want dental implants then it might be time to ditch the habit.
Do you have a strong immune system?
Those with compromised immune systems and those currently undergoing aggressive treatments like radiation therapy or chemotherapy will want to wait until their treatment is over before considering dental implants. The healthier you are the faster you will heal and the more smoothly your treatment will go.
Dental implants have been giving so many people back their smiles and it could do the same for you. If you are ready to find out if dental implants are the right choice then schedule your consultation today. Call Advance Family Dental Care in Naperville, IL.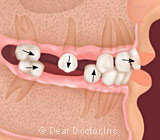 Why is it important to replace missing teeth with restorations such as dental implants? You might be surprised to find that the damage caused by missing teeth is much greater than the simple gaps left in your smile.
As the years go by, teeth lost early in adulthood cause structural changes in a person's face. By age 45 changes in facial structure are already visible in the form of sunken cheeks. By 60, cheeks and lips lose their support, resulting in an aging look. This process continues and if the teeth are not replaced, much of the structural support of the person's face is lost.
These changes are caused by loss of bone. Although it may seem static, bone is actually living tissue that needs constant stimulation to maintain its form and density. With normal stimulation it is in a constant state of resorption (breaking down) and deposition (building up). Teeth provide the needed stimulation for the bone that surrounds them (called alveolar bone) as they meet each other during biting, chewing, and speech. When the stimulation continues, the bone continues to rebuild itself. Without this stimulation, the bone resorbs, does not build up again, and loses substance.
Without stimulation, alveolar bone loses width, height, and volume. Since your teeth and their surrounding bone support your chin, cheeks, and lips, this has a powerful effect on your appearance. It may also affect your ability to chew and to speak.
As alveolar bone diminishes, the next layer of bone also begins to resorb. This is the bone of the jaw itself. The lower part of the face begins to collapse, and the cheeks become hollow. This effect is especially noticeable for people with no teeth (edentulous).
Usually the first tooth to be lost, due to infection and decay, is a molar (back tooth). In the past, a missing single back tooth was frequently replaced by a fixed partial denture (FPD). A crown is provided for each of the two teeth on the sides of the gap, called abutment teeth, to support a false tooth in the middle. However, if they are not well cared for, the abutment teeth may be the next to succumb to decay.
Today the treatment of choice is an implant. A dental implant is a tooth-root replacement made of titanium, which fuses with the bone — making it very stable. Above the gums it is covered by a crown that looks like a natural tooth. The benefit of the implant is that it continues to provide stimulation to the alveolar bone, preventing bone loss.
Implants are also a good choice in the case of multiple missing teeth. They can be used to support bridges or false teeth (dentures). The results are an improved, younger appearance and better functionality.
Contact us today to schedule an appointment to discuss your questions about missing teeth. You can also learn more by reading the Dear Doctor magazine article "The Hidden Consequences of Losing Teeth."