Posts for: June, 2013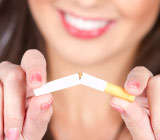 Oral cancer is not as uncommon as people think. In 2008 an estimated 34,000 cancers of the mouth and throat were diagnosed. In order to minimize your risk of developing oral cancer, be aware of habits that increase your risk.
Risk Factors for Oral Cancer include:
Use of smoking or chewing tobacco: Tobacco smokers have 5-9 times greater risk of developing this cancer than non-users; snuff and chewing tobacco users have a four times greater risk than non-users.
Excessive use of alcohol: Moderate to heavy drinkers at are 3-9 times greater risk than non-drinkers.
Exposure to sun: Chronic sun exposure is associated with development of lip cancers.
Certain viral infections such as the human papilloma virus that can cause cervical cancer in women can also cause oral cancer.
Compromised immune (resistance) systems that are not functioning properly can be associated with cancers.
Poor nutrition including diets low in fruits and vegetables can increase risk for all cancers including oral cancer.
Family history: People carry a predisposition in their DNA (the genetic material they inherited from their parents) for developing cancer.
Oral Cancers Can Mimic Harmless Sores
Early signs of oral cancer can mimic harmless sores that occur in the mouth such as canker sores, minor infections, or irritations that occur from biting or eating certain foods. Cancers in the lip area can easily be mistaken for harmless sores.
Early Detection is Key
It is important to have regular oral examinations to detect signs of oral cancer. Although 90 percent of oral cancers occur in people who are over 40, it is becoming more prevalent in younger people, particularly those who adopt risky behaviors: smoking, drinking and oral sex.
If you notice any unusual lesions (sores or ulcers), or color changes (white or red patches), anywhere in your mouth that do not heal within two to three weeks, come and see us and have it examined immediately.
Definitive diagnosis may require a small biopsy, the microscopic examination of a piece of tissue from the affected area.
It is important not to let a suspicious sore go unchecked. If detected and treated early, while a lesion or growth is small, survival rates can exceed 80 percent. Contact us today to schedule an appointment to discuss your questions about oral cancer. You can also learn more by reading the Dear Doctor magazine article "Oral Cancer."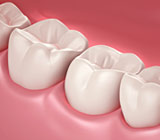 Getting a new crown for a front tooth is a standard procedure performed in thousands of dental offices around the country. But dental patients are sometimes surprised to find that the price of this routine treatment can vary by a substantial amount. What accounts for the difference? The answer tells us a lot about how crowns are made, and the value of aesthetics in dentistry.
Crowns may be made of several different materials. Gold, the most traditional restoration material, makes for a time-tested, functional and durable crown, lasting as long as 50 years. Gold is a precious (and expensive) metal, but considered over the lifetime of the restoration, it's an economical choice. Yet, even for back teeth, it's losing out in popularity to more aesthetically pleasing alternatives.
Porcelain-fused-to-metal (PFM) crowns and all-porcelain crowns replicate the look of natural teeth more accurately. The kind of porcelain used in restorations must have special strengtheners added, which enable it to stand up to wear and tear in the mouth. There are different porcelain materials used in dental restoration, each with a different look, quality and longevity. There are also new, high-tech ceramic materials. Each one has advantages and drawbacks, and each one's cost is different.
Besides the material, another large part of a crown's cost is the custom-fabrication of every piece. Since it must match the other teeth in form and function — and often in looks as well — every crown must be made to an individual's exact requirements. This includes the tooth's exact size and shape, its spacing, and (often) its particular color.
Making this happen is a multi-step process. First, a dentist carefully prepares a model of the affected tooth and its neighbors. Then, the fabrication work is normally performed by a highly skilled laboratory technician, at the dentist's direction. Finally, the dentist prepares the tooth for the restoration, performs final adjustments, and attaches the finished crown. When it's done, the restored tooth can be difficult to tell apart from any other.
The level of craftsmanship involved at the dental laboratory can vary — and along with it, the price. Dentists may even choose different technicians based on the quality level they're striving for. All of these factors affect the final cost of the crown, and its value to the patient.
It has been said that beauty is in the eye of the beholder, and this is certainly true in the case of dental restorations. The choice of a "best" crown is different for every person — more than one alternative may be available, and each comes with its own price. If you have more questions about your options for a crown restoration, don't hesitate to ask us!
If you would like more information about crowns, please contact us or schedule an appointment for a consultation. You can also learn more about this topic by reading the Dear Doctor magazine articles "Value of Quality Care," "Porcelain Crowns & Veneers," and "Gold or Porcelain Crowns."